Norman Whiteside Signed Shirt 1985 Manchester United Home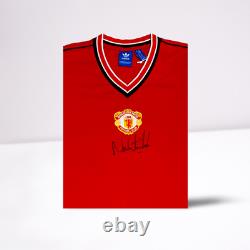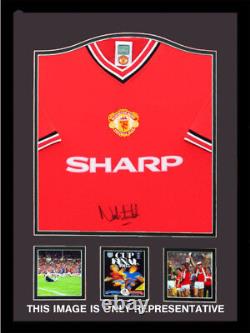 A replica 1985 Manchester United Home shirt hand signed on the front by Norman Whiteside himself. Storming Norman, Big Norm the infamous scousebuster played for United between 1982 and 1989. Whiteside began his career at. Signing professional forms in 1982 at the age of 17 and quickly becoming a key member of the side. He scored 68 goals in 278 league and cup appearances for the club over the next seven years, picking up two. As well as playing in the 1982. However, he retired from playing two years later, aged only 26, due to a knee injury. Whiteside holds records as the youngest player to take part in a World Cup, the youngest player to score in a League Cup and FA Cup final, and the youngest player to score a senior goal for Manchester United. Winning 38 caps for Northern Ireland, he played at the 1982 and 1986 World Cups, and also helped his country to win the last ever British Home Championship in 1984. After retiring as a player he became a podiatrist, and still works at the corporate hospitality department at Old Trafford. T is the official Manchester United Supporters Trust (Google us) - a non-profit fans organisation - owned and run by our members - passionate Manchester United supporters. We are recognised by MUFC, the FA, the PL and national fan organisations (FSF/Supporters Direct) and registered with the Financial Conduct Authority - with offices at 18 Sir Matt Busby Way just a stone's throw from Old Trafford. All our items can be collected free of charge if preferred (see below).
All shirts come with a Certificate of Authenticity. All our items can be collected FREE OF CHARGE from MUST HQ in office hours and for 3 hours before home games.
We're next door to the MUFC stadium at 18 Sir Matt Busby Way, MANCHESTER M16 0QG. Office hours - please call 0161 872 3300 to ensure we are open before starting your journey but usual hours are.
MONDAY- FRIDAY 10.30AM - 6.15PM. Except THURSDAY 10.30AM - 4.30PM. We have more items and special discount offers available from our website shop - search for "Manchester United Supporters Trust: MUST Online Shop" to find us. Follow us on Twitter : mustshop_org.

---